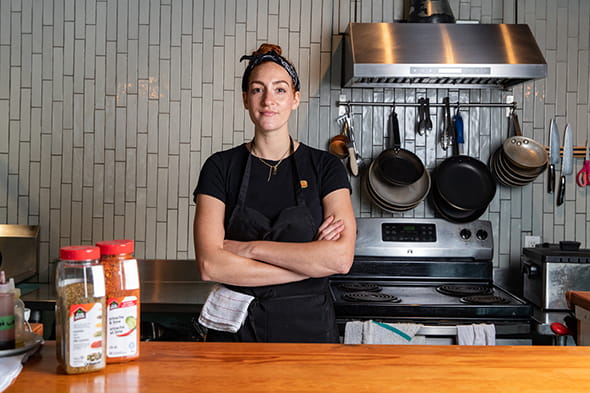 10 Things You Didn't Know About Chef Natalie Rosen
August 20 2019
Having worked her way up from behind the counters of cafes in Halifax, Nova Scotia, Chef Natalie Rosen is now Chef de Cuisine at Field Guide, an open concept kitchen restaurant in the city's north end. Chef Rosen is also a member of the Xenia Social Society, alongside Ceilidh Sutherland, Katie Tower and Nicole Raufeisen. Together, these women host immersive gatherings in non-traditional spaces to bring people together for a unique and cohesive experience centered around dining.
We stopped by Field Guide to find out more about the things that have made Natalie Rosen the chef she is today.
1. Favourite dish you've cooked that's not on the menu?
Ricotta and hen yolk-stuffed squid ink fresh pasta with beurre monté.

2. One thing you'd change about the Halifax food scene?
I wish there were one or two more restaurants to go to.

3. Best part of being a chef?
Gratitude from customers who are happy.

4. Favourite Halifax restaurant, other than Field Guide?
Highwayman and Bar Kismet.

5. One place in Halifax you always want to take people?
Long Lake.

6. Surprise ingredient you didn't use much of in the beginning but love now?
Harissa.

7. Spice or seasoning that you can always find in your restaurant pantry?
Paprika.

8. What food scene are you dying to explore?
Italy.

9. Favourite Halifax-based ingredient?
Strawberries in the summer.

10. Chef hero?
Anthony Bourdain.